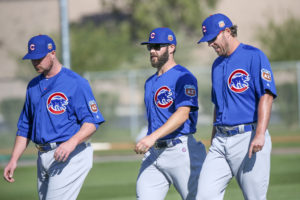 Following the conclusion of the 2017 regular season, a time in which hopes for a World Series repeat became a significant storyline, the Chicago Cubs already realized their fate for the season ahead. Although focused on yet another magical playoff run, others expressed interest in the influx of players departing from the team due to free agency. Would this be the team's last legitimate shot at a World Series Championship considering the amount of talent that would command higher salaries for next season? How would the Cubs recover from the potential loss of both Jake Arrieta and John Lackey, thus weakening an already-floundering starting rotation?
With the postseason ending on a discouraging and premature note, the team's vulnerabilities were showcased on a national stage. The once problematic situation became dire when noticing certain sure-handed players declaring departure via free agency. Those actions prompted discussion of both plausible replacements and resigning abilities. Nevertheless, the Cubs, at the moment, have multiple conundrums that need solving in lieu of the 2018 season. With the team's metaphorical "fountain of youth" losing steam year-by-year, the upcoming offseason will prove to be crucial for a possible return to the World Series.
In regards to prioritization, there is one player in particular that the team must target in order to benefit their future plans. Wade Davis, whom the Cubs received in a trade with the Kansas City Royals, must remain in a Cubs uniform next year. Although his peripherals such as walks and ERA+ took a bit of a downfall, he still saved thirty-two games this season in thirty-three opportunities. To put that into perspective, consider that in 2016, the Cubs blew fifteen saves as a team, including 6 alone from Hector Rondon and Aroldis Chapman combined. A closer with a success rate similar to Davis' is quite difficult to imitate, making him a commodity in Major League Baseball. With replacements mediocre at best, the Cubs must resign Davis in order to hold late-game leads, thus leading to crucial wins in times of need.
With Davis claiming the top spot on the Cubs wish list, concern shifts to the team's starting pitching situation, one in which two regulars are slated to leave via free agency. Both Jake Arrieta and John Lackey are intent on testing the open market, meaning that hefty price tags could follow suit. Luckily for the team, Lackey's 2017 performance was far from ideal, as he posted an ERA near 5.00, and led the National League in home runs allowed. Despite these horrific numbers, Lackey did finish second amongst Cubs starting pitchers with 170.2 innings pitched. If he can match or exceed that total, and perform even slightly better than this past season, he will be an outstanding investment for this team. When looking at his potential, combined with his affordable nature, it would make more sense for the Cubs to re-sign Lackey over Arrieta. Although Arrieta's 2017 season may have been better, the market will dictate an expenditure of at least $20 million, which does not match the potential of Arrieta's effectiveness moving forward.
When evaluating other options that the organization has, multiple players come to mind. For starters, the Cubs bullpen, with or without Wade Davis, needs drastic improvement. In the NLDS, the team's eighth-inning ERA was 20.25, which perfectly explains why it took a decisive Game Five to determine a winner. Brandon Morrow, who posted an astounding 0.00 ERA in the NLCS, is a prime target for this Cubs team. On the season, Morrow won six games, lost none, and turned in an ERA just over 2.00. A tandem of Morrow and Davis to end games would certainly lead to less late-game drama, and a newfound intimidation factor unbeknownst to the Cubs bullpen.
With an uncertain rotation, and a watered down free agent market, the Cubs must choose a replacement for either Lackey or Arrieta with caution. In all actuality, the best all-around on the market at the moment is Lance Lynn, the former Cardinals hurler. Lynn is a model of consistency, throwing at least 175 innings in a season five times. This past year, his first since recovering from Tommy John surgery was quite "Lynn-esque" to say the least. He finished fifteen innings short of 200, pitched to an ERA under 3.50, and won eleven games. In comparison to Jake Arrieta or John Lackey, Lynn offers more upside, and a lessened price tag. He would round out the Cubs rotation perfectly, while functioning as a much-needed innings eater for the team.
On the offensive front, the Cubs have yet to fully recover from the expected departure of Dexter Fowler. Although a platoon between Jon Jay and Albert Almora Jr. paid dividends for both parties involved, it resulted in an unstructured batting order, and a dip in power numbers from the position. If the Cubs felt that a replacement was necessary, Lorenzo Cain can easily provide some assurance. Cain, who hit .300 with an OPS of .803, is considered one of the best center fielders in the game today. Not only can he hit for both average and power, but his career fielding percentage .985, and he averages only four errors per season. He would undoubtedly fill Fowler's void, while providing the Cubs with excellent play in both aspects of the game.
Although this upcoming offseason may not possess certain "sweepstakes" or "blockbuster players," it still maintains intrigue. For the Cubs, this free agency period can make or break their ability to contend in 2018 and beyond. With needs aplenty, especially in regards to starting pitching, look for the Cubs to make educated moves in order to bolster their roster for the 2018 season.