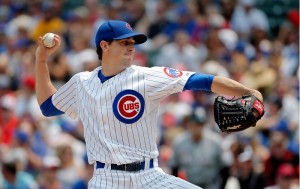 Recently, I began to reflect on my tenure as a Chicago Cubs fan, starting with the excruciating pain endured in 2006. At that point in time, the Cubs were comparable to the 2016 Atlanta Braves, as they housed numerous veterans at the end of their careers, along with young prospects who showed little potential. A horrendous 66-96 record ensued, causing franchise-wide upheavals and roster moves. These efforts established contenders in 2007 and 2008, yet playoff victories became nonexistent. For six years following their last playoff appearance, the Cubs were "mired in mediocrity," forcing fans to question the strenuous rebuilding process. Personally, I wondered if I would be lucky enough to see the Cubs make it to the World Series in my lifetime, let alone win it all. Fortunately, those feelings of doubt and despair were silenced with the emergence of last season, where a ninety-seven win Wild Card team clawed their way to an NLCS appearance. Today, the Chicago Cubs are now World Series favorites, and have a historic opportunity to snap a 108-year championship drought.
Although analysts around Major League Baseball enjoy raving about the stacked offensive threat the Cubs pose, the starting rotation has truly served as the team's number one asset. Including relief pitchers, the Cubs boast a team ERA at 3.11, which outpaces the rest of the league by more than 0.30 runs. Individually, each Cubs starting pitcher ranks inside the top twenty in the National League in ERA, while Kyle Hendricks has outpaced all qualifying pitchers with a minuscule 2.09 mark. Jake Arrieta, although not as dominant as last season, finished third in the NL in wins. His teammate Jon Lester, currently holds the runner-up position in that regard.  John Lackey's reemergence from the disabled list will serve as reinforcement down stretch, providing an over-qualified starter who has pitched in numerous postseason games. These five arms will dictate whether the Cubs bring home a championship, or go home empty-handed as in years past.
Despite a blown save early on, Aroldis Chapman has been the first shutdown closer in franchise history since Randy Myers back in the 1990s. He has recorded twelve saves since his acquisition at the trade deadline, combined with an impressive 1.62 ERA. Chapman's blazing speed has also accounted for twenty-eight strikeouts in only sixteen and two-thirds innings, which put his strikeouts per nine innings average at a robust 15.7. When discussing the rest of the bullpen, the efforts put forth by Hector Rondon should not go unnoticed. This is a player who was essentially forced to give up his closer's role, and slide into a relegated set-up responsibility. His ERA has stayed well below 3.00, while his strikeout totals exceed the amount of innings he has pitched. With his recovery from triceps soreness, look for Rondon to be used in multiple situations, especially during games when Chapman is unavailable. On a final note, Trevor Cahill has had a tremendous season albeit one in which he has worn various different hats. From his work as a set-up man, to his usage as a long reliever, Cahill has succeeded in both positions. It should also be mentioned that he made a spot start last month, and pitched five scoreless innings, setting the Cubs up for a favorable win. This was Cahill's first win as a starting pitcher since August of 2014, in which he pitched seven strong innings, giving up three earned runs. His versatility and effectiveness constitutes his case to not only make the postseason roster, but serve as a much-needed presence in the chase for a championship.
Offensively, Kris Bryant has mesmerized the game with his MVP-caliber season at the young age of twenty-four. As of today, Bryant is second in the NL in home runs with thirty-nine, fourth in OPS at .939, and leads all of baseball in runs scored with 121. He also has a WAR of 7.7, which correlates to fourth in the MLB. These key statistics, along with the fact that he plays for a championship-contending team, furthers his case for the NL MVP Award. Bryant's career year has taken the spotlight off of Anthony Rizzo, who has performed quite well in his own respect. He finished four doubles away from the NL lead, hit thirty-two home runs,  along with 109 runs batted in, a .292 batting average, and an OPS of .933. The "Bryzzo" combination in the middle of the Cubs lineup has flourished, as it contains two of the best hitters in baseball. A final bout of praise goes to Addison Russell, although his batting average sits at a depressing .238. Despite his shortcomings as a consistent hitter, he has driven in ninety-five baserunners and muscled up to hit twenty-one home runs. The ninety-five RBIs leads all NL shortstops, and is second amongst all MLB shortstops to Carlos Correa. Russell may not hit on a consistent basis, but he does hit the ball when the stakes are high. According to his seasonal stats, he is the most clutch hitter on this Cubs team, and will continue to contribute throughout the playoff push.
As the baseball season comes to an end, the playoff push draws increased interest. Teams will fight over these next few weeks for the last wild card spot, or a division championship. Fortunately for the Cubs, they can simply cruise through this closing month without worrying about the rest of the playoff chase. Once October arrives, postseason baseball will begin, and the Cubs have the opportunity of a lifetime. With hopes held high, along with aspirations of a championship, look for the Cubs to make it to the big stage in 2016.
Need a gift for a birthday party coming up? How about a house-warming party? If you answered yes, head over to Mucci's World today to browse their select inventory. They have everything, including Chicago sports apparel. Located at 7913 171st St. in Tinley Park, IL.