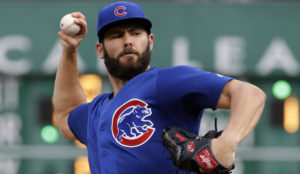 At the end of June, as the Cubs limped into the All-Star Break with a record failing to eclipse the .500 mark, Jake Arrieta was at a crossroads in his career. His historic 2015 season had become a mere afterthought, and his struggle to replicate those numbers only caused more problems to arise. By continuing to put pressure on his performance, Arrieta became infatuated with the display of his numbers. Seeing his ERA hold steady at nearly 5.00 heading into July did nothing but feed into the suspicion that Arrieta's effectiveness was coming to an end.
What spooked both coaches and fans, however, was the fact that Arrieta's regression made his statistics comparable to his mostly forgettable days with the Orioles. Similar to his seasons in Baltimore, Arrieta was only able to produce a quality start about half of the time, and not a majority of the time. To make matters worse, his career ERA with the Orioles was an appalling 5.46, and by the end of June, Arrieta's ERA stood at 4.67. Recognizing these trends sparked fear that Jake Arrieta would transform from a top-end arm to a feeble fifth starter at best.
Luckily, Arrieta himself has buried the doubts surrounding his pitching capability, and has turned in an excellent second half of play. In all actuality, he has even reinserted his name into the running for a National League Cy Young Award in which suitors are nonexistent at the moment. Arrieta's knack for second half successes has once again been the driving force behind his newfound prosperity, and with the Cubs in the thick of the divisional race, his first-rate performances are needed now more than ever.
Thinking back to 2015, in which Arrieta put together an extraordinary campaign, his second half is what determined the eventual Cy Young Award and MVP consideration. Ironically, Arrieta's second half achievements thus far have somewhat mirrored the stats encompassing his 2015 season. Primarily speaking, his strikeout rates have been almost identical, as he averaged nine strikeouts per nine innings this past August, while doing the same during his second half stretch in 2015. Even more impressive, nonetheless, is the fact that Arrieta has posted nine quality starts since July, which also strikes similarities to his 2015 excellence.
By being able to demonstrate parallels to that unbelievable 2015 season, Jake Arrieta has proven that his potency as a pitcher has not entered a decline. Although that certainly bodes well for Arrieta himself, especially when realizing that he is in the midst of a contract year, it also bodes well for the Cubs, who currently lack an intimidating staff ace. Jon Lester has been oft-injured, along with Kyle Hendricks. Those two, in particular, finished second and third respectively in the 2016 NL Cy Young Award race. John Lackey, who is currently thirty-eight years old, has glaringly under-performed this year. Combine the aforementioned situations with frequent spot starts by Mike Montgomery, along with a lackluster showing from Jose Quintana, and it becomes apparent that Jake Arrieta has emerged as the best possible option for the Cubs starting rotation.
On a personal level for Arrieta, his resurgence in the second half has quietly restored his chances at a second Cy Young Award. The typical pitchers in the running, like Kershaw, Scherzer, and Strasburg, have all sustained injuries at one point throughout the season. Therefore, their numbers have taken a hit, and their Cy Young chances have also diminished. In the past, voters have penalized pitchers who have missed parts of the season, as they feel that longevity plays a role in earning the award. With those three names out of the running, Arrieta is left competing with Gio Gonzalez and Zack Greinke, two pitchers who have also posted resurgent-type seasons.
Although it is difficult to see Arrieta capturing the award over players like Gonzalez and Greinke, he has a slim chance at doing so based on his performance throughout the month of September. If he is able to replicate the numbers he posted in both July and August, Arrieta would have a season ERA under 3.00, while approaching 200 strikeouts in 200 innings. He would have an opportunity to win eighteen games per se, while pushing the Cubs closer and closer to clinching a division title. Putting all of those factors into consideration, it would make sense to have Arrieta either win the award outright, or finish as a finalist.
In any event, Jake Arrieta has put together quite a finish to his 2017 season. Although it started out with questions surrounding the validity of Arrieta as an MLB pitcher, it ended with a return to the number one starting pitching role, and a slim hope at winning the NL Cy Young Award. That is quite a turnaround for a thirty-one year old pitcher trying to audition for free agency following the season's end. Whether his efforts are intended to raise his personal stock or assist the Cubs does not affect what he has compiled over the past two months. With Arrieta's confidence growing, and the Cubs ever-extending divisional lead, look for him to be a deciding factor in the team's journey throughout the playoffs.