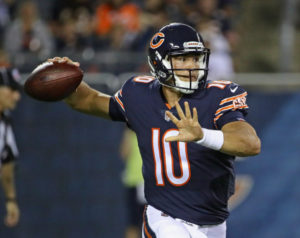 Undoubtedly speaking, a change was needed.
Mike Glennon, a career-long backup quarterback signed for over $18 million in guaranteed money, was not living up to his already minuscule expectations. Although his completion percentage and knack for managing a game was above par, his touchdown to turnover ratio was underwhelming to say the least. Combining the aforementioned attribute with the fact that a first-round draft selection was waiting for his opportunity, and it only makes sense that Glennon received an indefinite benching.
Nevertheless, with Mitchell Trubisky confidently taking the reins of this Chicago Bears offense, success has been a difficult nut to crack. Following the team's fifth loss on the year, analysts and fans alike are beginning to realize that it does not necessarily make a difference in regards to who starts at quarterback for the Bears. In either a Glennon or Trubisky starting situation, the Bears consistently lack a supporting cast of competent wide receivers, while continually looking to the running game for offensive output.
Case in point, let us reflect on the Bears Week One loss to the Atlanta Falcons, where the Monsters of the Midway came within five yards of definitively flipping the script. Leading up until the final plays of the game, the Bears had driven downfield from their own eighteen yard line under the direction of Glennon. In all actuality, he single-handedly laid the foundation for a victory, as every offensive play inside the 3:18 mark was a pass. Following the euphoria of setting up a first and goal opportunity after such an improbable drive, the Bears dropped two consecutive Glennon passes that would have resulted in game-winning touchdowns. Despite the gaffes by Joshua Bellamy and Jordan Howard, it was Glennon who was grilled by Chicago talk radio the next day.
Gutsy performance aside, Glennon's dismissal as the signal-caller was a prevalent discussion topic simply because the Bears lost the game. Critics dared not to look at the circumstances surrounding the disappointing defeat; they instead pointed their fingers at Glennon, claiming he could have done more to help his team pull out the victory. Admittedly, Glennon's performance took a minor decline as the season progressed, yet his Week One loss ensured his demotion, thereby elevating Mitchell Trubisky to the starting quarterback position.
When comparing Glennon and Trubisky's statistics during the four games that each has started, however, it is clear that Trubisky's status as this cure for the Bears and their quarterback woes is somewhat exaggerated. Due to the fact that Glennon has attempted more passes, he holds a sizable advantage in total yards, touchdowns, and completion percentage. Other stats not based on totals, such as net yards gained per pass attempt, shockingly favor Glennon though. Glennon surpasses Trubisky in that category, and also outpaces him in passer rating.
Despite these surprising revelations, it is no secret that the Bears rely heavily on the run game and defensive turnovers. Interestingly enough, the games in which the Bears have won, they have averaged twenty-four more rushing plays than passing plays. A now-infamous example of this trend was apparent in the team's fourteen point win over the Panthers. In that game, Mitchell Trubisky only attempted seven passes, while Jordan Howard received twenty-one of the twenty-six total carries. In addition, the Bears scored two touchdowns on defense, which helped them take an early commanding lead.
In a similar fashion, the Bears defeated Baltimore with an overtime dash by Jordan Howard that led to a game-winning field goal by Connor Barth. In only Trubisky's second game under center, he attempted just sixteen passes. In contrast, the likes of Howard and Tarik Cohen combined for fifty carries, totaling 199 yards. Once again, the amount of rushing attempts largely outweighed the number of pass attempts by Trubisky. Defensively speaking, the Bears intercepted two of Joe Flacco's passes, one of which resulted in a ninety yard touchdown return.
Therefore, even when striving to break down statistical differences between Glennon and Trubisky, in the end, it has no specific bearing on the Bears and their overall record. It has already been established that games in which the team wins entails far more rushes than passing attempts. If that's the case, then theoretically speaking, does it truly matter who is at quarterback for the Bears? Think about it for a moment. This is a team that is painfully dependent on rushing yards to propel the offense. Even more troubling is that when the Bears decide to pass the football, their best receiving "weapon" is a tie between Kendall Wright and Zach Miller, the latter of which may never appear in an NFL game again.
Debates between the better Bears quarterback can last hours on end, yet in reality, it does not matter. Oddly enough, the team needs a less-threatening quarterback, or even no quarterback at all, in order to win games. Hence, even though Mitchell Trubisky is a highly touted rookie with no ceiling in regards to potential, his performance does not make a noticeable difference. That fact alone proves that regardless of who is under center for the Bears, the team will still be able to win games with rushing and defense alone.