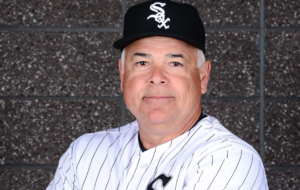 After a successful 2012 season that saw the Chicago White Sox compete for the AL Central Division title, Robin Ventura cemented his status as a plausible managerial option. Although he possessed no prior experience in this position, fans and media alike praised his first-year efforts, and anticipated continued success in the future. Unfortunately, the reverence Ventura encountered in year one could not transfer over his next four seasons with the team. Following the excitement of 2012, the Sox withered as a franchise, losing at least eighty-four games per season and finishing either fifth or fourth in the division. Despite a surprisingly successful start to 2016, it became apparent by season's end that it was time for a leadership swap.
Siding with an internal hiring, the White Sox promoted bench coach Rick Renteria to the managerial post for the 2017 season. Oddly enough, he becomes the first Sox manager with previous experience at the job since Jeff Torberg was employed in 1989. For Renteria, this occupational upgrade caps an arduous two-year journey that began after a sudden fall from grace following an encouraging 2014 stint as skipper of the Chicago Cubs. Although the seventy-three wins compiled by the Cubs in 2014 may seem underwhelming, one must consider the scope of the situation. Already dubbed a "rebuilding year" by fans and experts, Renteria inherited a team filled with mishaps. For one, the Cubs never had a solid three-man outfield, and instead consistently substituted an eight-man rotation in which the best option was Nate Schierholtz. On the mound, thirteen different pitchers started a game that year, including Edwin Jackson, who posted an ERA over 6.00 and lost fifteen games. Excluding the career year pieced together by Anthony Rizzo, no other Cubs hitter truly found productiveness at the plate. When contemplating the severity of this scenario, it is amazing to think that the team actually won seventy-three games and was briefly in the Wild Card race as late as July 30th of that year.
The Cubs' success that season, albeit on a minor scale, is a testament to Renteria's managerial skills and instincts. His major strength as a manager is his ability to connect with his players. Being of Mexican descent, Renteria speaks Spanish and English fluently, and often communicates with others using the Spanish language. This cultural similarity earns respect for Renteria, and allows him to convey his coaching style with an accompaniment to player obedience. As the manager of the Team Mexico in the 2013 World Baseball Classic, Renteria rallied his team to an impressive victory over the United States. Although it was not enough to advance further into the event, his outright leadership and intensity ended up knocking off a quality team, one that was predicted to finish with a championship appearance. Judging by this experience, Renteria will not crumble due to intimidation. His drive and determination to assist his players in thriving on the field will match any statistical advantage his opponent may have. What truly convinced the White Sox front office about Renteria is the fact that he is familiar with the organization. Throughout this past year, he has served as the bench coach under Robin Ventura. The implication is that Renteria already has established a rapport with the players, and more importantly, understands the method in which the team conducts its business.
Renteria is easily the finest choice that was available for the Sox and their managerial vacancy, however, problems plague the team on the field. A 2017 White Sox playoff appearance seems premature at this point, yet at least they have addressed their largest weakness. With a strong manager like Rick Renteria, the potential is always present for a promising turnaround. If the team can maintain a will to improve, and advocate a desire for change, look for 2017 to serve as a much-needed stepping stone for future prosperity.
Need a gift for a birthday party coming up? How about a house-warming party? If you answered yes, head over to Mucci's World today to browse their select inventory. They have everything, including Chicago sports apparel. Located at 7913 171st St. in Tinley Park, IL.