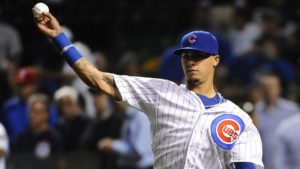 The idea is nothing short of genius. Instead of sporting traditional uniforms, Major League Baseball players will boast stylistic, "youth league" garments that will feature iconic nicknames and vibrant color schemes as a part of Player's Weekend. To complement the ensemble, players will flaunt a patch with a space to write in the name of a youth organization that made a major impact on his baseball career.
Although dubbed "Player's Weekend," the event actually assists the MLB in its outreach to fans, both children and adults. The style of the uniforms, combined with the personal connections to youth baseball organizations, encourages more youngsters to take up baseball as a new passion. In regards to adults, loyal fans can experience a change of aesthetics with the radiant uniforms lighting up television screens, and humorous nicknames igniting a social media frenzy. Thus, at least from a marketing standpoint, "Player's Weekend" will only help Major League Baseball in its quest to further popularize the sport.
For the players, however, this weekend that bears their name actually signifies more than just unorthodox attire and an acknowledgement of childhood roots. In fact, some players will have their opportunity to embrace a unique nickname, which can assist in conclusively cementing a legendary type of status.
Certainly, an explanation is needed. How would a nickname have any bearing on becoming a member of the Hall of Fame per se? Clearly, it is known that nicknames in general do not count as criteria for enshrinement, yet oddly enough, the Baseball Hall of Fame has quite an interesting relationship when it comes to players with nicknames voted in by the Baseball Writers Association of America.
Amongst the 122 players officially elected to the Hall of Fame via the BBWAA, only fifteen of them do not possess some sort of nickname, meaning that around ninety percent of elected inductees have some sort of sobriquet. Obviously, this coincidence does not convey that a nickname is somewhat mandatory for membership, but it raises an interesting point about the types of players that are able to make it to Cooperstown.
Being considered a Hall of Fame baseball player indicates top level performance for a number of years.  In other words, it signifies players who are considered faces of the game. That logic can explain why specific individuals have had a troublesome encounter with the Hall of Fame election process. Simply put, even if players fall tantalizingly short of "milestone" numbers, their odds of receiving induction take a major cut. Only those who actually met milestones and subsequently made history have a quality chance at making it in.
Those great players, therefore, usually receive an honorable distinction, other than induction, that accompanies their impressive track record. The aforementioned honor is almost always a nickname. A prime example of this ideology applies to George Herman "Babe" Ruth. Following his elegant baseball career in which he swatted 714 career home runs, while posting a batting average just north of .340, Ruth was the beneficiary of a plethora of nicknames. "The Great Bambino," "The Sultan of Swat," and simply "Babe" all referred to Ruth and his dominant nature on the field.
A more modern reference to the principle is Frank Thomas., otherwise known as "The Big Hurt." He too had impeccable statistics including 521 home runs, and 1,704 runs batted in. To complement those numbers, Thomas possessed a violent swing and an ability to hit the baseball out of the ballpark. Taking both factors into consideration, it makes perfect sense that Thomas received the nickname that he did.
Even more interesting, however, is that the fifteen players who do not enjoy the characteristic of a nickname still have eccentricities that define them as a player, making them memorable in their own right. For example, although Rollie Fingers does not boast a concrete nickname, his unforgettable handlebar mustache described his uncommon personality. When coupling that attribute with 341 career saves, a Cy Young Award, and a League MVP Award, it only strengthens the reasoning behind Fingers' induction back in 1992.
Similarly so, Warren Spahn, who won 363 games and pitched 382 complete games, did not have a nickname. Although his in-game performances easily paint the picture of a Hall of Fame worthy career, Spahn was also key part of a catchy poem written during his heyday. He and teammate Johnny Sain spearheaded the Boston Braves' 1948 pitching staff, prompting a Bostonian sports editor to pen a poem alluding to both pitchers dominance. "Spahn and Sain and Pray for Rain" was a condensed version of the writing that made national headlines, putting Spahn on the public radar for the remainder of his playing days.
Although nicknames do not necessarily foreshadow a Hall of Fame induction, it certainly improves chances for players looking to attain immortality. With outreach as a number one priority, Player's Weekend means so much more to both journalists and players alike. By featuring nicknames on the rear of uniforms, players will have an opportunity to continue to display their true talents, while signaling to national media members that they have a desire to earn a nickname that will stick. As explained earlier, possessing a nickname based on successful performances can only be of service to those aiming for Hall of Fame status later in life.
Ergo, when watching players suit up during Player's Weekend, keep the entertaining aspects of the promotion in the rearview mirror. Instead, pay close attention to performances, and hence, the nicknames that originate from those excellent showings. Believe it or not, this weekend could begin writing the story to a player's Hall of Fame career, and all it takes is one fabled accomplishment coupled with a viral nickname.