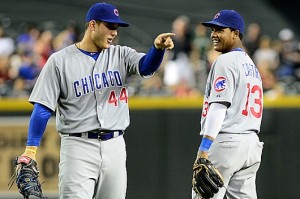 The Chicago Cubs are coming off of a 96-loss season and currently, they possess one of the worst overall records in Major League Baseball. Unfortunately, this 2014 season for the Cubs will be no different than the 2013 season, which was expected by each and every Cubs fan. Minor acquisitions were made in the offseason like the Justin Ruggiano trade or the signing of Chris Coghlan, yet these minute moves will not make the team a playoff contender. Although the Cubs may have another year filled with displeased fans and players, there is much to look forward to in the future. By 2016, many prized prospects including Albert Almora, Eloy Jimenez, Kris Bryant, Danny Alcantara, Javier Baez, Jorge Soler, C.J. Edwards, and Pierce Johnson will be promoted to the Major League team, forming a new dynasty that could take the Cubs back to the World Series. For right now though, here is an assessment of the 2014 Cubs season.
Key Players: On the offensive side, the Cubs will need Anthony Rizzo and Starlin Castro to obtain successful, bounce-back seasons. Rizzo is capable of being a 30 home run, 100 RBI-type player and last season, he came just a tad short of those numbers. Hopefully, he could reach those standards and become a possible All-Star selection in the years to come. In 2011, Starlin Castro led the National League in hits with 207 and made an All-Star Game appearance, yet last year, he hit just above .240. Castro needs to have a 170-180 hit season, which will drive-in or create more runs to score. These two players are key offensive pieces that the Cubs have to offer, so they need to start producing and doing their job. Emilio Bonifacio has put together an amazing first-half on the offensive side of the ball for the Cubs. Bonifacio has 13 stolen bases and has over 50 hits for a .270 batting average. He quietly emerged from being a non-roster invitee at Spring Training, to an excellent lead-off hitter that the Cubs have been looking for since the arrival of Alfonso Soriano. As far as pitching goes, the Cubs have an effective 1-2 punch at the top of the rotation, yet starters 3-5 are inconsistent and are constantly changing. Jeff Samardzija has a 1-5 record, but do not let that fool you. He is in the top-10 in the National League for Earned Run Average (ERA) and he could be selected to the 2014 NL All-Star team. The only problem is that Samardzija receives absolutely no run support from his team, which is why the Cubs never win when he pitches. Travis Wood is coming off of a career year in which he made the NL All-Star team and he is still doing well. He already has five wins and he leads all Cubs pitchers with that amount.
Key Rookies: Neil Ramirez is the "Key Rookie" for the Cubs this season. Ramirez is a middle-relief pitcher and has done a splendid job so far this season. In 14 appearances, Ramirez has a sub-1.00 ERA and a sub-1.00 WHIP (Walks plus Hits per Innings Pitched). The Cubs have been in need of an effective middle-reliever and if he keeps doing well in this role, he could be the future closer of the Cubs. Next time you are watching a Cubs game, make sure to pay attention to this guy because he is quietly putting together a fantastic year out of the bullpen.
Overall Team Performance: The Cubs will not be legitimate contenders this season, which is a surprise to no baseball fan. Right now, the Cubs are still in the rebuilding process, but this process is almost complete and will be fully completed by 2016. I expect the Cubs to finish last in the NL Central Division with a record of 64-98. I do not believe they will lose 100 games, but they will once again be very close to that unsuccessful number. Even though the Cubs may not do well this season, make sure to enjoy Wrigley Field's 100th Anniversary! There are many promotional nights and items to buy that commemorate this special year. Although the Cubs are going to suffer another losing season, they have an extremely bright future and some great years ahead of them.