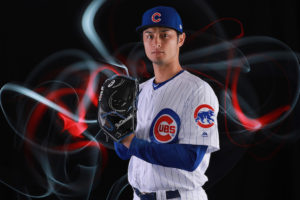 During the World Series last year, one in which the Chicago Cubs were unable to participate in, the Los Angeles Dodgers were vying for their first championship in over twenty-five years. Despite the team's towering payroll, the Dodgers possessed all of the tools necessary to complete their never-ending quest. When healthy, the team had eight quality starting pitchers at their disposal. Offensively speaking, Los Angeles exerted sheer dominance, as the likes of Cody Bellinger, Corey Seager, and Justin Turner wreaked havoc on opposing pitching. Statistically speaking, all signs pointed towards a Dodgers victory, and a subsequent end to their quarter-century championship drought.
Following two games that resulted in a one to one series tie, Yu Darvish was scheduled to make a pivotal start in Game Three. A win would give the Dodgers the upper hand during the early stages of the series, thus alleviating the pressure of a potential deficit heading into Game Four. With the stakes extremely high, and tensions even higher, Darvish performed poorly at best. He lasted less than two innings, giving up four runs, and in essence, the game itself. As disappointing as Darvish's outing was, a second arose for him to redeem himself. Although Los Angeles faced a daunting task ahead of them, they overcame adverse conditions, setting themselves up for a winner-take-all Game Seven matchup.
Ironically enough, as if fate had its way, Darvish was scheduled to make another start. He had a chance to not only redeem himself for his Game Three woes, but also etch his name into the history books provided a Dodger win. With indelible implications, Darvish failed once again. In an eerily similar outing to Game Three, Darvish lasted only one and two-thirds innings, giving up five runs, four of which were earned. His performance not only tarnished his own reputation, yet also single-handedly cost Los Angeles a World Series Championship. Darvish's postseason appearances affected his market value, thus driving away potential suitors. In the end, the Chicago Cubs took a hefty chance on the right-hander, inking him to a six-year, $126 million deal.
Despite Darvish's underwhelming World Series statistics, he continued to function as an above-average, if not upper tier, starting pitcher. Last season, when combining his numbers with Texas and Los Angeles, Darvish pitched to an ERA under 4.00, while striking out 209 batters in only 186 innings of work. By averaging over ten strikeouts per nine innings, Darvish proved that his sheer "stuff" is amongst the best in the game today. In seasons prior to last, Darvish was considered one of the top pitchers in the game, as justified by his back-to-back top ten finishes in the American League Cy Young Award vote. To add to his accomplishments, he is a four-time All-Star Game selectee, former league leader in strikeouts, and former ace of the Texas Rangers pitching staff.
Therefore, the question remains, what can Darvish bring to the table here in Chicago, especially considering that he will be joining a pitching staff filled with talented arms? First off, and in a most important sense, Darvish will complement the Cubs rotation by existing as a sole strikeout pitcher. Before Darvish, only Jose Quintana averaged more than ten strikeouts per nine innings for last season's Cubs team. Darvish should easily exceed this expectation, as his career average sits just north of eleven strikeouts per nine innings.
Secondly, and just as importantly, Darvish will add valuable experience to this Cubs team. When he first became available during the 2011-12 offseason, multiple teams showed interest, even bidding $20 million just for the opportunity to negotiate a multi-year contract. He has been a key part of three different postseason runs, spanning between the Rangers and Dodgers. Darvish has also, and still is, considered one of the top pitchers in baseball. Simply put, he is not unfamiliar with being in the limelight. Thus, even though he will be competing in a prime sports market in Chicago, he will be able to handle the pressure that accompanies the environment.
Although from a personal standpoint, it would have been a fiscally intelligent move to sign a pitcher such as Lance Lynn, the Cubs have made their decision. This further proves that the team is willing to heighten its payroll for the chance to retain its position at the top of baseball's totem pole. Despite my fiscal objections, Yu Darvish will only add value to this Cubs team. With his presence in the starting rotation, the Cubs have the opportunity to recapture their 2016 magic, while flaunting an impeccable five starting pitchers. With the team willing to spend money in order to stay on top, look for the Cubs to make another postseason push here in 2018.