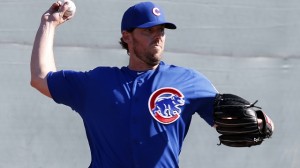 It does not come as a surprise to me that the latest PECOTA projections compiled by Baseball Prospectus rank the Chicago Cubs as the most successful team in baseball; winning ninety-five games and the NL Central Division as well. This same projection system told the baseball world that the 2015 Cubs would finish only a game or two over .500 and miss the playoffs. In my opinion, a ninety-five win campaign is an extremely conservative projection, as the 2016 Cubs are destined to win 100 games. Unfortunately, the team will have to live up to these high expectations, as a repeat of the dreadful 2008 season is something that would make lifelong Cubs fans feel more "blue." That memorable team, composed of eight all-stars, three valuable newcomers that joined midseason, and a rookie of the year won ninety-seven games, yet received a wake-up call in the NLDS, losing to the steroid-infused Manny Ramirez and the Los Angeles Dodgers. Entering the new year, a new sense of optimism and trust exists amongst Cubs fans, a sense that will only strengthen as the season progresses. Here is a more in-depth look at the players who will contribute the most to this highly anticipated 2016 season.
Key Pitcher: Instead of picking the obvious candidates such as Jake Arrieta or Jon Lester, I am opting to go with closer Hector Rondon. Rondon has not performed well in spring training, pitching to an earned run average that exceeds the 12.00 mark, along with a WHIP (Walks plus Hits per inning pitched) that coincides to a mark over 2.00. Over the past five years, only two other closers for the team have posted numbers similar to Rondon, and now they are currently out of the job. Jose Veras, a closer the Cubs acquired in a trade about three years ago, and former all-star Carlos Marmol both endured horrendous spring training outings, which pushed both players out of the North Side, and eventually, out of baseball for good. The Cubs need stability at the back of their bullpen, as Rondon has already lost his job in the past. The closer position has been a revolving door for the Cubs, one that begins after Randy Myers left the team in 1995. For the Cubs to contend, they must be able to hold miniscule leads through the ninth inning, which is something the Hector Rondon needs to understand.
Key Position Player: Although Kris Bryant, Anthony Rizzo, and Jason Heyward will lead the offensive charge for this hitter-friendly lineup, it is Kyle Schwarber who will determine the success achieved by the team at the plate and in the field. Schwarber's biggest predicament has to do with the fact that his fielding skills are subpar, and it will be a challenge to find a spot in the field for him. Looking back to the 2015 NLCS, Schwarber booted a number of baseballs in left field, costing the Cubs a number of unearned runs. Behind the plate, Schwarber struggles to block the ball properly and has a tough time with attempting to throw out baserunners. Sure, Schwarber's bat is the real deal, but his mediocre defensive theatrics pose a risk for his chance to play everyday. He needs to settle on which position he prefers to play, and master his craft. This will make him a candidate for a starting role, which will lead to average defensive production, along with a noticeable jump in his statistical power numbers.
Key Reserve Player: Javier Baez is a true definition of the indispensable utility player, as he is able to play at third base, shortstop, second base, first base, and center field. Baez, once a highly regarded prospect, is now used to the setting of Major League Baseball, and is ready to make a meaningful contribution to the team. After working tirelessly to cut down on his alarming strikeout rate, Baez hit .289 in limited time last season, and also clubbed a home run in the Cubs 2015 playoff chase. His time to dazzle defensively and show off some pop in his bat has come. Although he may not be apart of the starting nine, he will garner numerous pinch hit at-bats and log innings as a defensive replacement. This is Baez's year to audition, and he must perform at his best to ensure a spot on future Cubs rosters.
Key Rookie: 2015 was the "Year of the Rookie" for the Cubs, as they had four rookies appear in at least 100 games. 2016 is shaping up to be the "Year of the Veteran," but late-season call-ups can add a competitive edge to the team down the stretch. Look out for Carl Edwards Jr. in September to step up in the bullpen and serve as a much-needed innings eater. Edwards was once part of the MLB's list of Top 100 Prospects, and received some experience last season at the Major League Level. His second go at Major League action should be promising, considering that he pitched to a respectable 3.86 ERA last season in five relief appearances. He is capable of starting as well, and may be used as a spot starter in certain situations. Either way, he too is fighting for his own future, and will need to prove to Joe Maddon and the front office that he is capable of playing effectively at the next level.
X-Factor: The headlines repeatedly discussed Starlin Castro and his shocking trade to the Yankees, yet most media outlets did not fixate on the player that the Cubs received in return, Adam Warren. Warren pitched to a 3.29 ERA in a "swingman" role for the Yankees, serving as a sixth starter and a long relief pitcher. As of today, the five starting pitchers have already been determined, yet another slump encountered by Jason Hammel or a Kyle Hendricks mishap could land Warren into the starting rotation. In the bullpen, Warren succeeds just as well, posting a 2.97 ERA in sixty-nine appearances in 2014. He will provide insurance to an unpredictable back-end of the rotation, and will lock up a role similar to Travis Wood's in the bullpen.
The 2016 Chicago Cubs are a solid group of players, with each possessing a desire to help the team win. Although PECOTA gave the Cubs a healthy ninety-five win projection, I am going to take it a step further, and say the Cubs will win 101 games in 2016. That total may look pleasing to the eye, yet the postseason comes next. The Cubs have a loyal fan base, and they long to see a World Series Championship, which would be the first for the franchise since 1908. Although the drought may not necessarily end this season, it will in the near-future. Cubs fans, look forward to 2016. It will definitely be a year to remember.