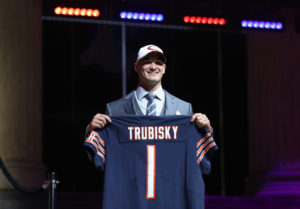 Following a tumultuous season in which the Bears implemented a woeful quarterback carousel, the time had come to seek out some stability at the position. Instead of retaining someone like Jay Cutler, who had been the team's mainstay since 2009, the Bears chose to bring in some fresh faces. Inking Mike Glennon to a three-year deal was definitely a start, yet the true splash occurred on the first day of the NFL Draft. Admittedly, it was quite unclear who the Bears would select, as multiple mock drafts produced a large variance. Some claimed the team would go after a defensive threat, while others assumed it was an offensive weapon other than a quarterback. It made sense, as the team already committed at least $19 million to Mike Glennon, the purported starting quarterback for 2017. In the end, however, the Bears traded up to the second overall pick, and selected someone they had been eyeing for months, that person being Mitchell Trubisky.
Trubisky played college football at the University of North Carolina for three seasons, yet he did not officially start at the quarterback spot until his final year. Even though Trubisky had started for only one season, that year was incredible to say the least. He threw for over 3,700 yards, while maintaining a sixty-eight percent completion percentage. Keep in mind that since 2000, the only Bears quarterbacks to post completion percentages above sixty-six percent are Brian Hoyer and Josh McCown. In addition, Trubisky's quarterback rating was an astonishing 157.9. In comparison, the last Bears quarterback to post a QB Rating above 100 was Josh McCown, yet that was only over a period of eight total games. Trubisky, conversely, was able to post a much better rating over thirteen games. In 2015, Trubisky played in nine total games, yet did not start in one. Despite this limited playing time, he was able to record a QB Rating of 226.4, which is simply unheard of. He also had forty-seven total pass attempts, and forty completions, meaning that he only had seven incomplete passes all year. Even though Trubisky was not a starter, he did everything he could in 2015, to set himself up for the success he encountered in 2016. Although Trubisky's college successes cannot compare to the competitiveness of the NFL, his stats tell the tale of what to expect from him at the professional level.
Despite Trubisky's strong track record, fans expressed outrage at the fact that the Bears drafted him. When he attended the Bulls playoff game, he was the recipient of heckling and booing. Why is everyone so disappointed in the fact that the Bears have an opportunity to properly groom an already talented quarterback? By expressing their misery, the fans are sending a message that only benefits Mike Glennon and his prospects at winning the starting job. It just does not make sense that the majority of Bears fans are enraged about an acquisition of this magnitude. Of course, it is no secret that the Bears gave up a great deal just to move up to that number two spot. Also, critics claim that Trubisky is not even talented enough to get selected in the first round. That could explain the jeers directed towards him, yet if those are the main reasons why fans are infuriated, then their actions are foolish. Everyone is forgetting that with the addition of Trubisky, the Bears have a chance to reverse a quarterback problem existent since the 1990s.  They finally have a chance to produce their own Aaron Rodgers or Drew Brees, and instead of applauding this opportunity, Bears fans are resistant to the idea.
Mitchell Trubisky, if anything, is a godsend to a Bears team that has historically struggled at the quarterback position. Instead of criticizing his aforementioned abilities, we as Bears fans should welcome him into the depths of this historic franchise. Trubisky is a highly sought after draft pick, and the fact that the Bears were able to land him is nothing short of a miracle. People may discredit his talent, or his ability to win games, (North Carolina lost in the Hyundai Sun Bowl) yet my suggestion is to give the kid a chance before it is determined that he is a superstar or a bust. Wait until the season's end to evaluate his performance, but do not make an assessment before he has stepped foot on the field.