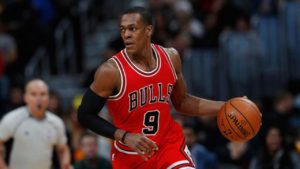 When reflecting on the current predicaments that plague this 2016-17 Chicago Bulls team, we must realize and legitimize the fact that their downfall was not difficult to predict. On the contrary, the team's offseason acquisitions already had raised some red flags, and when combining that with their sub-.500 performance today,  it became apparent that the team was far from replicating its previous success. If anything, as a matter of fact, the Bulls have seemingly regressed as a franchise, as their current record suggests that they may miss the playoffs for the second year in a row. Obviously, the situation is less than ideal, meaning that the team needs to figure out what direction it wants to go in. Will management continue to sign big names with washed-up statistical accomplishments, or will they realize that it is time to rid the team of problematic players and wait in earnest for the NBA Draft?
A specific player who is a so-called "big name" with less than respectable statistics is point guard Rajon Rondo. Rondo, who signed a two-year deal with the Bulls, had lessened expectations considering that he was entering his age-30 season. Nevertheless, his lone season in Sacramento went extremely well, as he led the league in assists per game while averaging nearly twelve points per game. No one in the basketball community expected the miserable season that Rondo has compiled thus far. He has established new career-lows in points per game, shooting percentage, and free-throw percentage. Making matters worse, his assists per game average is nowhere near last season's, meaning that his mediocre season has encompassed even his trademark statistic. His well-documented struggles on the court have led to off-the-court feuds in the locker room with teammates Jimmy Butler and Dwyane Wade. In a highly publicized post on social media, Rondo criticized his "veteran" teammates, while claiming that they also influenced the coaching strategies of Fred Hoiberg. Simply put, Rondo has a reputation of being a less-than-ideal teammate, and after considering his in-game production, it can easily be concluded that this was the wrong move for the Bulls. If anything, it would have been a better idea to retain Derrick Rose, and have him start at point guard for this season. At least he would have maintained a somewhat respectable stat line. Instead, the Bulls chose to let him go, and in return, the team is punishing itself today because of the Rondo signing.
As mentioned before, Rondo's acquisition was a mere tactic by management to make it seem as if the team would revert to its winning ways. That same methodology was applied with the signing of Dwyane Wade. Although Wade himself is having an above-average season, it is far below his personal standards when compared to other seasons in his career. Despite averaging nineteen points per game, Wade is missing more shots than ever before. His shooting percentage is currently at a career-low, and over fifty points lower than his career average. At thirty-five years old, this trend is certainly understandable, yet the question remains, why did the Bulls decide to sign Wade at the end of his career? Once again, the team made it seems as if they made some huge splash in the free agency market, yet in reality, they acquired an NBA legend on the verge of retirement. The signings of both Wade and Rondo describe the Bulls' illusion of becoming a contender, while signifying that the team strode further away from a meaningful trip to the playoffs.
Instead of trying to trick fans and media into believing that the Bulls were "the real deal," team management should have faced the facts with brutal honesty. More specifically, the Bulls should not have allocated unheard of amounts of money towards two players nearing the end of their respective careers. At this point, the team needs to recognize the situation that they are currently in. Besides Jimmy Butler, who is twenty-seven years old as it is, there is not another young player on the Bulls who has shown any potential of becoming the next face of the franchise. Other teams, like the Timberwolves, for example, have much to look forward to in their future, even though their current season is not going well. With players like Karl Anthony-Towns and Andrew Wiggins, the franchise will eventually become a dynasty that racks up playoff appearances and possible NBA titles. In contrast, the Bulls have absolutely nothing to look forward to in the next few years. Due to the idea of making the playoffs every year, the team does not want to even think about rebuilding, or look at the direction of the franchise's future.
Instead of worrying about making the playoffs each season, the team should focus on its long-term goal of bringing a championship back to Chicago. Let's face, it will not help anyone if the Bulls continue to win forty-one games per year and somehow sneak into the eighth seed in the Eastern Conference playoff picture. Likewise, it will not help anyone if the franchise tries to advertise big names with less than flattering stats. It is time for the Bulls to realize that in order to ever make another serious run at an NBA Championship, the team must begin the rebuilding process as soon as possible. That means dumping Wade and Rondo, and abandoning a winning record for a couple of years. That also means dealing Jimmy Butler before the trade deadline, while his value is at its highest, and receiving some highly-touted future first-round draft picks.
The Bulls still have a chance to right their wrongs, and convince fans that they are truly making an effort to mount a memorable playoff run. If the franchise can confront its bleak future with credibility, then upper management can start making the moves that will reverse a depressing trajectory. Until that occurs, the Bulls will continue to post .500 records year-in and year-out without the prospect of making it farther than the first round of the playoffs.