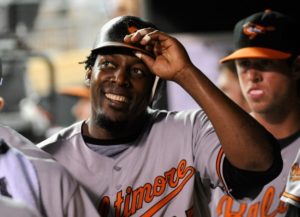 Following the fervor of last season, in which the BBWAA overwhelmingly selected three former baseball legends to join the likes of Ruth and Mays, this incoming 2017 National Baseball Hall of Fame ballot does not include any "sure-fire" candidates. Out of the thirty-four players eligible for induction, seven are tied to performance-enhancing drug use, while others simply do not boast the qualifications that are entirely Hall of Fame worthy. Due to future scenarios that infer crowded ballots, this 2017 voting period is a chance for numerous players to positively gain in voting percentages, and possibly, receive the seventy-five percent necessary to make it in. With rampant speculation surrounding feasible inductees, here are some frontrunners who may achieve baseball immortality in 2017.
Headlining the players that appear on the ballot for the first time is Vladimir Guerrero, the 2004 American League MVP and nine-time All-Star. "Vladi" finished his career with 449 home runs, 2,590 hits, and 1,496 RBIs. Although these numbers are legendary in their own right, critics have denounced Guerrero's accomplishments, claiming that he missed the key milestones of 500 home runs and 3,000 hits. Despite the brevity of his baseball career, Guerrero made his time count, as he only hit below .300 in three out of his sixteen seasons. In twelve of those years, he also mashed at least twenty home runs, while totaling at least 100 RBIs in ten seasons. What truly cements Guerrero's case is that he outpaces thirteen right field members in batting average, while surpassing seventeen of them in total home runs. These statistical findings prove that Guerrero is one of the greatest right fielders of all-time, at least in comparison to those already earning spots in the Hall of Fame.
Another notable newcomer is Ivan "Pudge" Rodriguez, the 1999 AL MVP recipient and fourteen-time All-Star Game participant. As a player, Pudge was known for his consistent offensive output, as well as his perseverance. When part   of the Florida Marlins in 2003, Rodriguez helped send his team to the NLCS by corralling a throw from the outfield and absorbing a violent collision with the runner at the plate. He managed to hold onto the ball, which ended the runner's chance at spoiling a Marlins playoff run. There were numerous reasons behind the success of that 2003 Marlins team, yet Pudge's resilience in such a daunting scenario easily helped pave the way for a World Series championship. Offensively, Rodriguez put up above-average numbers in his twenty-one year career. His batting average ranks sixth in comparison to current Hall of Fame catchers, while his total of 311 home runs ranks fifth. Although the totals look enticing, Rodriguez's career OPS plus, which measures a hitter's success in different ballparks, sits at a meager 106. This statistic portrays Pudge as a league average hitter, and voters embracing the sabermetric age may use this to his disadvantage. Despite Rodriguez's mixed bag on offense, his spectacular defensive play may make up for those purported weaknesses. Pudge has won an impressive thirteen Gold Glove Awards, which asserts his defensive dominance at the position. His defensive WAR also ranks ninth all-time amongst all players in baseball history. Rodriguez deserves consideration for this honor, yet voters will need to pay special attention to his comparisons against current Hall of Fame catchers. These comparisons will reveal just how great of a catcher Pudge was throughout his lengthy career.
Luckily for both Rodriguez and Guerrero, they are only approaching their first year on the ballot. Urgency has not set in for either of these two players just yet. For Tim "Rock" Raines, however, anxiety haunts his credentials for a Hall of Fame induction. This will be Raines's final chance to make it to the Hall on the common ballot. Although he still has future opportunities to make it in, his supporters contend that this situation should not be ongoing. Raines's case for this honor rests on certain total statistics, yet also relates to one major problem out of his control. Unfortunately for Raines, his spectacular playing career was marred by the success of his colleague Rickey Henderson. He has consistently been compared to arguably the greatest lead-off hitter in the game, thus hurting his previous chances at induction. Raines himself posted excellent numbers as a left fielder, even exceeding twelve current Hall of Fame left fielders in runs scored. He also ranks fifth all-time in stolen bases, and recorded over 2,600 hits. Opponents to his candidacy cite the fact that he was not the best player in his era, as he hid in Henderson's shadow for virtually his entire career. Others claim that since he did not win an MVP award, he does not deserve enshrinement in baseball's Hall of Fame. Raines nearly made the cut last year, and with a water-down ballot, the wide belief is that Raines will muster enough votes to earn the induction. Raines should not be penalized for being the so-called "second-best" in his era, and he deserves this prestigious honor.
A prominent storyline that will surround this year's voting process is how voters will portray players like Barry Bonds and Roger Clemens, as they both hold strong ties to performance-enhancing drug use.  Although both players possess usual statistics that command a first ballot selection, their perceived ties to PED use has considerably hurt their candidacies. Barry Bonds surpassed Hank Aaron as the all-time leader in home runs, while ranking fifth all-time in RBIs. Bonds also won a record seven MVP awards, and set single-season records for bases on balls and home runs. His career mirrors the statistics only seen in video games. Of course, his connection to PED use has limited Bonds' vote totals, and his critics claim that he should never receive Hall of Fame induction due to his athletic dishonesty. Roger Clemens also falls in the same boat.  He won a record seven Cy Young Awards, and even won an MVP award in 1986. He ranks inside the top-ten all-time in wins, strikeouts, complete games, and WAR. Similar to Bonds, Clemens has received limited vote totals, as most baseball writers are not ready or willing to accept notorious steroid users into this exclusive club. Expect a slight rise in both players' vote totals with the current state of the ballot, but once again, I do not expect an induction ceremony for either of the two.
The Baseball Hall of Fame is the most exclusive club in all of sports, and thirty-four former players are seeking to become members of this honorable society. Although each candidate does not have statistics or ethics that support an easy path to a first ballot induction, the baseball writers will most likely find at least one player to agree on. With that being said, look for Tim Raines to make his way into the Hall of Fame. He received nearly seventy percent of the vote last year, and is on track to meet the seventy-five percent threshold. The struggles to achieve baseball immortality are significant, yet the payoff etches players of greatness into the epitome of America's pastime.
Need a gift for a birthday party coming up? How about a house-warming party? If you answered yes, head over to Mucci's World today to browse their select inventory. They have everything, including Chicago sports apparel. Located at 7913 171st St. in Tinley Park, IL.