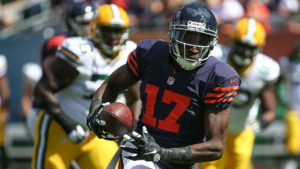 It became apparent after last week's tumultuous loss, in which Jay Cutler threw yet another interception during a last ditch game-winning drive, that the Chicago Bears are calling it quits on the 2016 season. With their top two starting quarterbacks both out for the season, coupled with crippling performance-enhancing drug suspensions from Alshon Jeffery and Jerrell Freeman, the team's woes have been put on a national scale. As frightening as this sounds, the Bears have more in common with the 0-11 Cleveland Browns that any other team in the league, yet both teams look to the promising 2017 NFL Draft to correct problems and build a contender in the years to come.
A major storyline for the Bears throughout the season has been the perceived output of Jay Cutler, as his performance would determine whether the Bears would choose to retain him for next season. Despite two injuries that limited his playing time, Cutler has arguably suffered through one of the worst seasons of his career in 2016. He has posted an overall career-low in Total QBR, while finishing near his career-lows in completion percentage and quarterback rating. This is also the first year in his career in which he has thrown more interceptions than touchdowns, which is quite shocking considering that he has thrown at least fourteen interceptions in six different seasons. Ironically, these lowly statistics are a far-cry from the 2015 season, in which Cutler actually recorded some career-highs in the aforementioned stats. His luckless 2016 season almost guarantees his abrupt release at year's end, thus ending an era in Chicago football. The timing could not have been better, as next year's draft class boasts three Heisman Trophy contenders, all of whom are athletic quarterbacks who can control a team and reap victories in the coming years. It has been confirmed that the Bears themselves have scouted Ohio State standout J.T. Barrett, who has led the Buckeyes to an impressive 10-1 record and the number two ranking in the latest AP poll. The possibility for the Bears to draft Barrett is favorable, as their current record lists them at third in the draft order. If they are able to maintain this losing pace, they can end up drafting their next franchise quarterback. It is unfortunate to see the Bears lose the number of games that they already have, but they possess the chance to acquire a future star in the year to come, while effectively ending the Jay Cutler era in Chicago.
Although Cutler's poor performance as turned into a positive by-product, the conduct exhibited by both Alshon Jeffery and Jerrell Freeman has been nothing short of embarrassing. Both players have been suspended four games for violating the NFL's rules on performance-enhancing drugs, thus tarnishing their once-respected legacies. At the time of his suspension, Freeman ranked fifth in the NFL in total tackles while receiving starts in all ten of the Bears ten games played. This was supposed to be Freeman's year to breakout on defense, and certain statistics supported this claim. This makes the suspension all the more deflationary for the team, as he served as a leader on defense. Perhaps even more depressing on the offensive side, however, was the shocking suspension of Alshon Jeffery. A former Pro Bowl wide receiver, Jeffery was again on pace for a 1,000 yard season and another Pro Bowl selection. Similar to Cutler, Jeffery is in a contract season, as he was placed under the franchise tag before the year began. With this suspension, Jeffery will most likely become a free agent for 2017. This behavior by him is quite out of character, but nevertheless, it further depletes an already underwhelming Bears offense. The team, which has only amassed twenty points in a game on one occasion, must now rely on the heroics of players like Cam Meredith and Eddie Royal. Jeffery's punishment subsequently ended his memorable career in Chicago, and hurt his popularity. He will need to work extra hard to regain trust from fans, and bolster his diminished image.
The missteps incurred by Freeman and Jeffery, along with substandard production by Jay Cutler largely contributed to the mediocrity associated with the 2016 Chicago Bears. Although most fans despise this year's Bears team, their future is bright due to their pending draft order. The franchise has a golden opportunity to reverse its direction by selecting one of the three quarterbacks available in the 2017 draft. It is soul-crushing to see the team lose at such a rapid pace, yet the upcoming payoff can change the direction of the entire team, and the feelings of an entire city.