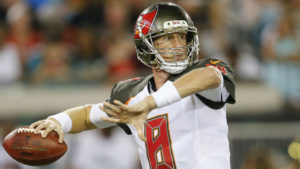 A tumultuous and mostly forgettable Bears era has recently ended without much eventfulness, which is quite ironic considering that eight years ago, the sports media felt shell-shocked that the Chicago Bears decided to trade away their future for Jay Cutler. At the time, he had just completed the greatest season of his career, and it seemed as if the Bears were prepared to "go all in." They ignored their premonitions, and let Cutler run the show. Looking back on that incident in today's context, it is clear that the trade did not live up to its heightened expectations. "Success" eluded the Bears, as their lone playoff appearance with Cutler ended in an embarrassing loss to Green Bay. With a particularly strong draft class, combined with an even-stronger free agent market, it made perfect sense that the team decided to release Jay Cutler in lieu of the 2017 season. In a separate acquisition, the Bears have picked former Buccaneers back-up quarterback Mike Glennon to function as Cutler's replacement.
To be blunt, Glennon is certainly not the quarterback that the fans had in mind to succeed Cutler. His entire career has been spent in Tampa Bay, where he had to truly compete for a starting role with now-free agent Josh Freeman and former Bears quarterback Josh McCown. To make matters worse, Glennon has thrown only eleven in-game passes since 2015 due to the emergence of Jameis Winston as a perennial starting quarterback. One could even say that the Bears have decided to make a career-long back-up quarterback become their new starter. No matter how you put it, it is apparent that Glennon has been put in a difficult position to start. He must now find a way to impress both the fan base and management, who generously gave him an average annual salary of $14.5 million.
I will admit that the price tag placed on Glennon is absurd, as a lifelong back-up quarterback who originally had to compete with players like McCown and Freeman does not deserve a paycheck of $14.5 million. In terms of average salary, Glennon will actually earn more money in 2017 than players like Eli Manning or Aaron Rodgers. The aforementioned quarterbacks are not only highly accomplished veterans, but Super Bowl Champions. Glennon, in contrast, has never appeared in a playoff game, and once again, he has thrown only eleven in-game passes in the past two years. Those who question Glennon's contract have every right to do so, but as far as his ability goes, there is existing information that might surprise some of Glennon's most outspoken critics.
Even though Mike Glennon has played in a limited fashion over the past couple of years, his statistics from the years in which he started are quite adequate. In his rookie season, Glennon started in thirteen games, passing for over 2,600 yards, while completing nearly sixty percent of his passes. In that same season, he managed to record nineteen passing touchdowns, compared to just nine interceptions. A split of that nature in the NFL is considered above-average. If he had recorded these statistics during this past season, his touchdown to interception ratio would actually outnumber quarterbacks like Cam Newton, Carson Wentz, and Alex Smith. Similarly so in 2014, Glennon recorded ten touchdowns passes in six games while averaging around 236 yards per game. Obviously, with the arrival of Jameis Winston, Glennon's playing time greatly diminished, yet his numbers from both 2013 and 2014 are definitely starting quarterback material. In addition, his average passing yards per game total in 2014 outpaced Jay Cutler's total in five of his eight seasons with the Bears. By attempting to decipher Glennon's numbers, albeit in a smaller sample size, it is apparent that he may serve as an improvement over Jay Cutler.
Identifying Glennon's past accomplishments is a task well-worth the work, but his past stats cannot fully determine how productive he will be in his tenure with the Bears. Other variables, including his supporting cast, will need to be taken into consideration. Likewise, will Glennon falter under the immense pressure of being a starting quarterback in a major football city. Nothing against Tampa Bay, but the city's football franchise is nowhere close to the legacy and recognition that surrounds the Chicago Bears. Millions will be watching Glennon play week in and week out, no matter the importance of the game. Thus the question remains, how will he be able to handle the pressure and increased viewing audience? Either way, Glennon has a seemingly impossible task ahead of him, and that is to help lead the Bears to a highly sought after playoff appearance. Unfortunately for Glennon, his fate with the team will be extremely contingent on the fulfillment of that aspiration.
The point is, do not immediately gawk at the decision to make Mike Glennon the next Bears starting quarterback. Sure, his contract structure is outright ridiculous, but his past numbers suggest that he may turn out better than Jay Cutler. When something like that is a possibility, then it is understandable that the Chicago Bears are willing to give him a chance.