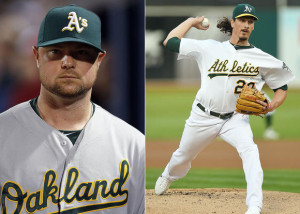 When I think about an ace, or leader of a starting rotation, I think of a pitcher that has experience with an impressive statistical backing. Jeff Samardzija and Jon Lester both fit the criteria of an ace perfectly. Lester has won multiple World Series championships with the Boston Red Sox and has a career record of 116-67. Samardzija has been a starting pitcher and the former ace of the Cubs pitching staff for three seasons prior to him signing with the White Sox. In each of those three seasons, Samardzija has posted at least 180 strikeouts and 170 innings pitched. The Sox also acquired other quality player like Adam LaRoche, David Robertson, Melky Cabrera, and Zach Duke for the 2015 season. The Cubs  have also hired a top-tier manager in Joe Maddon along with players like Jason Hammel, Miguel Montero, David Ross, and Tommy La Stella. For the first time since 2008, both Chicago baseball teams are projected to make the playoffs and possibly bring back a World Series championship thanks to these unexpected moves during this offseason. Here is a quick breakdown of each player that both teams have acquired during the 2014 offseason.
Jon Lester: Lester has a career Earned Run Average (ERA) of 3.58 to complement coming off of a career season in which he won sixteen games and had a career-low ERA of 2.46. With the exception of 2012, Lester has won at least fifteen games and posted an ERA of 3.75 or lower. He will lead the Cubs starting rotation and hopefully have continued success especially after making the transition to the National League.
Jeff Samardzija: Although Samardzija has only been a permanent starting pitcher for three years, he has made at least 28 starts each season and has an average ERA of 3.71 over those three years. This past season, Samardzija made the NL All-Star team and had an ERA under 3.00. For the second straight season, Samardzija had a 200 strikeout-200 innings pitched season. He will form a dynamic 1-2 punch with Chris Sale at the top of the White Sox Starting rotation.
Jason Hammel: Hammel went 8-5 with an ERA under 3.00 before being traded by the Cubs to Oakland for a package of prospects. Overall, Hammel had a career year last season, winning ten games and having his ERA hold steady right around the 3.50 neighborhood. Although Hammel has been in the league for nine years, last season he finally put it all together. He will be a perfect number three starter for the Cubs, right behind Jon Lester and Jake Arrieta.
Adam LaRoche: LaRoche has hit twenty or more home runs in every year since 2005 with the exception of an injury-plagued season in 2011. Last season, LaRoche hit twenty-six home runs and had 96 Runs Batted In (RBI) while earning an OPS above .800 for the seventh time in his eleven-year career. He is an above-average first baseman and has been productive for nearly a decade. He and Jose Abreu will split time between first base and designated hitter, giving the White Sox another 1-2 tandem in the heart of their lineup.
Miguel Montero: Montero made the NL All-Star team for the second time in his career last season, as well as posting a fourth season in a row in which he hit at least ten home runs. Montero has a career slash line of .264/.342/.421, which is above average for the catcher's position. He will provide some much needed offensive production at the catcher's position for the Cubs. Welington Castillo, formerly the Cubs starting catcher, hit a measly .237 with an OPS that failed to reach .700 in 2014.
David Robertson: The fact that Robertson successfully seceded Mariano Rivera and posted a 39 save season is impressive. The shocking part is that he did not make the All-Star team. Anyways, Robertson has a career ERA under 3.00 and has been a successful set-up man until 2014, when he took over the closer's role in stride. He will solve a closer problem that the White Sox have had since the fall of Bobby Jenks as closer back in 2009.
David Ross: Ross is not an offensive threat and is nearing the age of 40, yet he will provide a veteran presence in the Cubs clubhouse and will catch games exclusively for Jon Lester. In Boston, Lester and Ross had excellent chemistry, proved by a 2.77 ERA that Lester had when Ross was catching. Ross also provides some depth at the catching position for the Cubs, making Welington Castillo the odd man out.
Melky Cabrera: Cabrera has a career batting average of .286 and has had five years in which he has driven in at least 60 runs. Last season, he hit .301 with sixteen homers, 73 RBIs, 35 doubles, 173 hits, and an OPS above .800. Cabrera is a phenomenal all-around player and if he is able to put up stats resembling the 2014 season, the Sox will have a productive number two hitter in their lineup, one who could get base hits or muscle up and hit a ball out of the park if needed.
Tommy La Stella: As a rookie with the Atlanta Braves last season, La Stella appeared in 93 games and hit .251 with 80 hits. He will provide some depth at second base, possibly backing up Javier Baez. La Stella spent 2013 in the Minors and hit .356 with 22 doubles and a .936 OPS in 88 games, showing that he was a productive player and still has a chance to be that same player.
Zach Duke: Duke started off his career as a starting pitcher with the Pirates and even made the NL All-Star team in 2009, yet after a dismal 2010 season in which Duke's ERA reached 5.72, he became a left-handed specialist out of the bullpen. In 2012, he posted a 1.32 ERA in a limited amount of games. In 2014, Duke had a career year with the Brewers going 5-1 in 74 games with an ERA at 2.45. He is a major upgrade compared to the Sox former setup man, Ronald Bellisario.
Both the White Sox and Cubs made multiple acquisitions that made them serious contenders for the 2015 season. The offseason is not over, and more trades and signings can still be made by both clubs, so watch out for that!