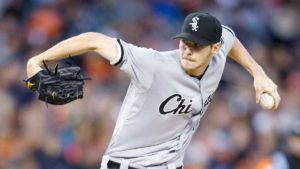 Following the 2008 season, in which the Chicago White Sox won the AL Central Division after a dramatic one-game playoff, the franchise as a whole slipped into a paralytic regression. In these past eight years, the team has finished with a winning record only twice, while averaging a meager seventy-six wins per season. Although the Sox broke their "seventy-win" threshold on two occasions, they were never able to make it back to the postseason. This era thus defined the White Sox as an unpredictable bunch, one that always had the chance to excel past the regular season, yet never mustered the win total to actually do it. Over the past two days, the franchise has made two crucial acquisitions that evicted fan favorites, yet brought in players who can contribute to a winning atmosphere in the years to come.
On Tuesday, the Sox acquired Major League Baseball's number one prospect, Yoan Moncada, along with three minor league players for ace Chris Sale. In a corresponding move, the Sox also sent center fielder Adam Eaton to the Washington Nationals in exchange for top pitching prospect Lucas Giolito and two other pitchers currently in the farm system. Chris Sale's parting was truly bittersweet for Sox fans, as he served as the face of the franchise during mostly forgettable years on the South Side. A homegrown product, Sale has made five consecutive AL All-Star teams while finishing in the top five for the AL Cy Young Award on four different occasions. What makes Sale most valuable is his utter consistency. He has won at least ten games, kept his ERA under 3.50, and posted at least 200 strikeouts for four straight seasons; not to mention that he also is the active leader in strikeouts per nine innings. Sale is a proven workhorse and more importantly, a bona fide number one starting pitcher. When taking a look back at the 2016 postseason, the Red Sox, a favorite to win the World Series, ended up losing in the ALDS to the Indians. Sure, the offensive threat was neutralized by Cleveland's pitching, yet the glaringly blatant problem was the fact that the team lacked in starting pitching. With the Sale trade, the Red Sox will boast a solid five-man rotation, and even have room to demote one of their current starters to the bullpen. For the White Sox, they have acquired a player compared to Robinson Cano, meaning that his hitting skills are impeccable and his all-around talent is tough to denounce.
Although the Chris Sale trade made more headlines due to the big names involved, the Adam Eaton acquisition may prove to be more rewarding for the White Sox in  the years to come. Lucas Giolito, a coveted pitching prospect, will head to the White Sox after posting amazing statistics throughout his Minor League career. Giolito maintained an ERA below 3.00 and averaged over one strikeout per inning, explaining his meteoric rise to the Major League level. Critics tend to cast doubt upon Giolito's Major League readiness, as he did post a 6.75 ERA in six games (four starts) last season. However, the fact that his new pitching coach is Don Cooper certainly helps his case. Cooper's expertise should assist Giolito's performance greatly, and will help justify those lofty projections.
One comical note about these acquisitions sending obvious "rebuilding" signals, is the simple fact that White Sox fans themselves are acting quite optimistic about these two trades. Instead of fearing a future without faces like Chris Sale and Adam Eaton, fans are comparing their current situation to the Cubs and their overhaul just over five years ago today. At that time, the Cubs were essentially lost, and knew that there would be a mediocre short-term future, but a fruitful long-term goal. The Sox are in the same position at this point. They have finally realized that their current team needed some new, minor league talent. Although the next two to three years may prove unbearable to some fans, just remember that a winning culture is right around the corner. For the Cubs, it took four years to reach the playoffs, and five to win a World Series Championship following the initial rebuilding stage. Luckily enough, the Sox do not have to wait as long for their next playoff appearance, as their acquisitions already boast Major League experience. In these past two days, the Chicago White Sox have conquered the first difficult step in rebuilding a franchise. After their two to three year wait, their labors today will prove successful and necessary for a reestablishment of a winning atmosphere.
Need a gift for a birthday party coming up? How about a house-warming party? If you answered yes, head over to Mucci's World today to browse their select inventory. They have everything, including Chicago sports apparel. Located at 7913 171st St. in Tinley Park, IL.