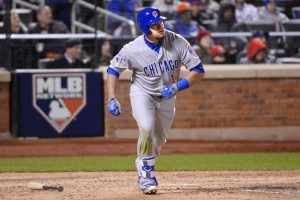 As I witnessed the Cubs squander their final out in Game Four of the 2015 NLCS, I realized that although the series as a whole was played in such a horrible manner, the players behind the 2015 Cubs completed one of the most memorable seasons in recent Chicago sports history. Aside from the team's highly successful "Let's Go" hashtag on social media, the 2015 Cubs were quite a likeable bunch of fellas. They exhibited excellent team chemistry, something that is overlooked in today's sports world. They had players who may have had embarrassing track records, yet stepped up to the plate in the 2015 season and produced at an astonishing level, exceeding expectations with flying colors. They even had their "superstar" bunch of guys, who were counted on to succeed in moments that mattered. The Cubs were not expected to contend for a playoff spot, and even if they were able to, a ninety win season was an expectation that fans scoffed at in April. Who would have ever thought that the Cubs would win ninety-seven games, a win total that the team had not achieved since the infamous 2008 season. To top the cake, the Cubs won a playoff game and entire playoff series for the first time in twelve years. Record-breaking and history-making are the words that accurately describe this 2015 season, aided by breakout performances, promising rookies, and emerging superstars.
The obvious MVP of the 2015 season and current National League Cy Young candidate is Jake Arrieta. The statistics that he put up were reminiscent of Dead-Ball Era numbers, which basically resembles the fact that he performed just as well as pitchers did nearly 100 years ago. He led all of baseball in wins with twenty-two, finished second in ERA at a miniscule one point seven seven, and spun a historic second half in which he went twelve and one with an ERA of zero point seven five. That second half ERA is the lowest in that time period since ERA became an official statistic in 1912. He is the first pitcher ever to finish the season with twenty consecutive quality starts, which is a stat in which a pitcher lasts at least six innings and gives up three earned runs or fewer in one start. Arrieta led all of baseball with twenty-nine of these starts out of thirty-three starts total, which is even more impressive. This mind-boggling list also includes a no-hitter that took place on August 30th against the Los Angeles Dodgers. Coming into the season, Arrieta had a career record of twenty and twenty-five with an ERA of five point four six before making his debut with the Cubs back in 2013. His career a made a drastic turn for the better since coming to the team, and his years of hard work have finally yielded results at a rather memorable rate.
The most productive hitter award goes to first baseman Anthony Rizzo, who bashed thirty-one home runs to complement 101 Runs Batted In on the season. According to Cubs beat writer Carrie Muskat, Rizzo became just the sixth left-handed hitter in Major League history to reach ninety-four runs scored, thirty-eight doubles, thirty-one homers, 101 RBIs, seventy-eight walks, and seventeen stolen bases in one season. His batting average was a respectable .278, yet his OPS (On-Base Plus Slugging) was .899, which is significant. This rather high number shows Rizzo's tenacious ability to get on base frequently, along with hitting the ball a long way. Rizzo also became only the second player in baseball history to hit thirty home runs and get hit by pitches thirty times in the same season. Rizzo's ability to get on base stems from the fact that he got hit by pitches thirty times this year, yet he toughed out those bruises by playing in 160 games this year, only missing two games all season. Rizzo is a dependable player and more importantly, a recognizable superstar in all of baseball due to his continuing success at the plate and in the field.
The rookie impact award has to go to Kris Bryant, even though Kyle Schwarber has quite the amazing postseason. When looking at the entire season, however, Bryant played in more games than Schwarber and has the numbers to back himself up. Bryant led all Major League rookies in various offensive categories including home runs with twenty-six, RBIs with ninety-nine, doubles with thirty-one, and runs scored with eighty-seven. He also posted a .276 batting average, which shows that he is just a pure hitter. Bryant was not even on the Opening Day roster, as the Cubs waited for fifteen days to promote him due to contract restraints. When he finally appeared on the Major League scene, his stats were through the roof. This prompted a selection to the MLB All-Star Game and participation in the Home Run Derby along with teammate Anthony Rizzo. He was a highly anticipated rookie with tantalizing pressure to perform, and he took this in stride, by meeting and even exceeding expectations in certain ways. Bryant will be the future of this Cubs team, and I fully expect that he will be the starting third baseman on Opening Day 2016.
The final award concerns the bullpen and it goes to the Cubs closer Hector Rondon. His season took an unpleasant turn when he was demoted from his closer role in late June, yet he regained the position in late July and never looked back. On the season, Rondon posted a stingy ERA of one point six seven and saved a career-high thirty games for the Cubs on the season. Rondon also produced career-highs in innings pitched with seventy, appearances with seventy-two, strikeouts with sixty-nine, and WHIP (Walks Plus Hits Per Inning Pitched) with a perfect one point zero. Rondon firmly ensconced his name into that pivotal closer role and, barring no setbacks, will shut-down games for the Cubs in the years to come.
Although the postseason was depressing in the end, we should not forget about how much history we witnessed throughout the entire 2015 Cubs season. It was filled with constant excitement and a new, youthful energy. The team was not supposed to even think about the playoffs, yet they made it, and even won a series in the end. Congratulations to the Cubs on a memorable season and remember Cubs fans, "Wait til' Next Year!"