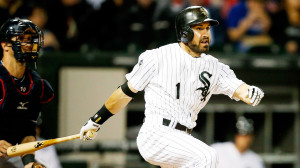 With injury woes and unproductive players, the 2013 Chicago White Sox suffered a miserable and unsuccessful season in which they lost 99 games and finished last in the AL Central Division. Fans were disappointed and management was not pleased as well. The Sox then had quite a busy offseason highlighted by a blockbuster trade involving the Arizona Diamondbacks and the Los Angeles Angels. Although Hector Santiago and Addison Reed were traded away, two top prospects came in return. Manager Robin Ventura earned a three-year contract extension and Paul Konerko will be playing his final season here in Chicago. White Sox fans should be optimistic about the upcoming season because I believe that a Wild Card berth is not out of reach. Here are some predictions that I am making regarding the 2014 Chicago White Sox.
 Key Players: To begin, Adam Eaton is on-track to have a spectacular year if he stays on the field. Eaton can play an error-free center field, while garnering multiple outfield assists due to his strong arm. At the plate, expect him to hit at least .270 with a possible hit total of 160 or more. He has the potential to steal at least 30 bases by season's end. Eaton is arguably the player who could have the most impact on this team. Chris Sale and John Danks are two pitchers that could lead the Sox to a playoff berth. Sale is a 200 strikeout, 200 inning pitcher with a legitimate chance of reaching the 20-win plateau. If John Danks can stay on the field, the Sox will be in luck this year. This guy could easily win 15 games and strikeout at least 150 batters. Alexei Ramirez had a career year last season and I hope that will carry-on into this year. I believe that he could earn a spot on the AL All-Star Team and I expect him to get 170 hits along with a batting average near .300. Finally, Dayan Viciedo has the potential to make 2014 a memorable year for himself. If he could play at least 140 games, I expect to hit 30 home runs with the possibility of 100 runs batted in.
Key Rookies: There are two high-profile rookies to pay attention to this season. Hopefully they will be called up near the end of the season to give the Sox one last push for the playoffs. Jose Abreu is the powerful first basemen that you need to watch this year. In Cuba, he regularly hit 30 home runs and easily got 100 RBIs. Currently, he is hitting .295 in Spring Training and he has had some outstanding games already. For example, he led the Sox to a win by getting three RBI singles at crucial points in the game. If Abreu plays a full season, I expect him to hit 35 to 40 home runs. He will be the next first basemen after Konerko and he is a bright spot for the Sox. The other rookie to look out for is Matt Davidson, the prospect the Sox received for Addison Reed. He is the 88th best prospect in the game according to ESPN. In Triple-A last season, Davidson hit .280 with 17 home runs in only 115 games. Although he was recently optioned to Triple-A, he could get called get late in the season to help the Sox earn a playoff spot. Davidson could be hitting 30 to 35 home runs in a full Major League season.
Overall Team Performance: It will be truly difficult for the Sox to earn a playoff appearance considering the strength of the AL East and AL West, but I expect the White Sox to go 89-73. Either way, I believe that this season will be a positive turnaround from last season. Even if they do not make the postseason, I expect them to be in the race the entire way. My team Cy Young Award goes to Chris Sale who could also win the AL Cy Young Award if my predictions are correct. My team MVP award goes to Alexei Ramirez because of his ability to stay on the field and because of his possible All-Star Game appearance. This year's team gets a B on their report card. They are a good team with a chance to sneak into the postseason. They are not a powerhouse yet, but they can earn a winning record and they can be contenders until the very end.