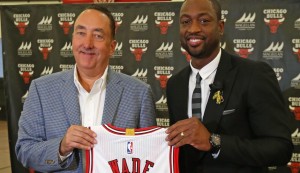 As a lifelong Bulls fan myself, the loss of Derrick Rose and Joakim Noah was definitely warranted, yet bittersweet nonetheless. These two players defined a successful era in Bulls history, one that saw the team reach the playoffs in seven consecutive seasons, which was considered the second-winningest run in team history. Unfortunately, last season witnessed Rose playing in a limited fashion due to nagging injuries, while Noah was unable to play for most of the year after recovering from shoulder surgery. Both fans and management understood that it was time to cut ties with these former franchise players, which created the opportunity for the team to begin a new era, one that produced more than just a yearly playoff team.
The quest to build a championship contender began with the acquisition of Rajon Rondo, who helped the Boston Celtics win it all in 2008, and set career highs in total assists, total rebounds, and three-point percentage as a premier guard for the Sacramento Kings last season. Rondo also led the NBA in assists per game with 11.7, which also tied a career high. Being a member of a mediocre Kings team last season, he was forced to carry the offensive load, which allowed him to become the primary playmaker. These elevated statistics, including that three-point percentage, shows that he experimented with his skill set last year, and proved that an old dog can learn new tricks. Luckily for Rondo this year, he will not collapse under the pressure of carrying the offense, as the Bulls already possess legitimate scoring threats in Dwyane Wade and Jimmy Butler. For once, he will simply act as a role player, which allows him to relax, and play the game in the way that he is capable of. Critics have denounced this signing, claiming that Rondo is nothing but a troublemaker who has repeatedly clashed with coaches and other teammates. Although there is evidence behind this claim, it is also worth noting that this will be the first year since his stint with Boston where the team he plays for actually has a chance at playing for an NBA Championship, let alone making the playoffs. With that in mind, combined with his overall talent, look for Rajon Rondo to make an immediate impact when compared to last season's version of Derrick Rose.
Rondo's signing filled the void of the Derrick Rose trade, yet Dwyane Wade's signing filled a gaping hole, as he will move Jimmy Butler over to the small forward position, further solidifying a formerly underperforming Bulls offense. Just to put things in perspective in regards to Player Efficiency Rating (PER), the only Bulls small forward cracking the top fifty last season was Doug McDermott, who posted a below average rating of 10.99. With the Wade transaction and the shift of Jimmy Butler, the Bulls transformed their small forward carousel into a superstar in terms of PER. Butler's rating last season would actually rank fourth when compared to all small forwards, while Wade's rating with shooting guards took fourth anyway. In essence, this acquisition allowed the team to have an elite shooting guard and an elite small forward at their disposal. Statistically, Wade lost some of his gusto last season, as he produced career lows in three-point percentage and overall field goal percentage. This may seem alarming to some, but these declines are expected as Wade continues to age. What truly strikes me about Wade's 2015-16 stats is that he averaged a career low in minutes at 30.5, yet still managed to average 19.0 points per game. Two seasons ago, Wade averaged the exact same amount of points, yet averaged 32.9 minutes per game. Although Wade is aging, he is still an efficient scorer who has something left in the tank. Speaking of experience, Wade has won three NBA Championships, albeit two with the help of Lebron James and Chris Bosh. In 2006, however, Wade was able to lead the Miami Heat past the Dallas Mavericks, as he led all qualifying players in the NBA playoffs in total points, total steals, and total field goals made. Simply put, Wade is a proven leader who brings skill and extensive experience to a playoff-hungry Bulls team.
Although we are still over three months away from the beginning of the regular season, a hopeful theme surrounds this 2016-17 Bulls team. Management made aggressive moves and created a new identity for the franchise, one that does not rely on the heroics of an injury-plagued roster, rather, it relies on superstars who are committed to reviving a historic NBA organization. The Bulls are more than just playoff contenders; they are actual contenders for an NBA Finals Championship.
Need a gift for a birthday party coming up? How about a house-warming party? If you answered yes, head over to Mucci's World today to browse their select inventory. They have everything, including Chicago sports apparel. Located at 7913 171st St. in Tinley Park, IL.